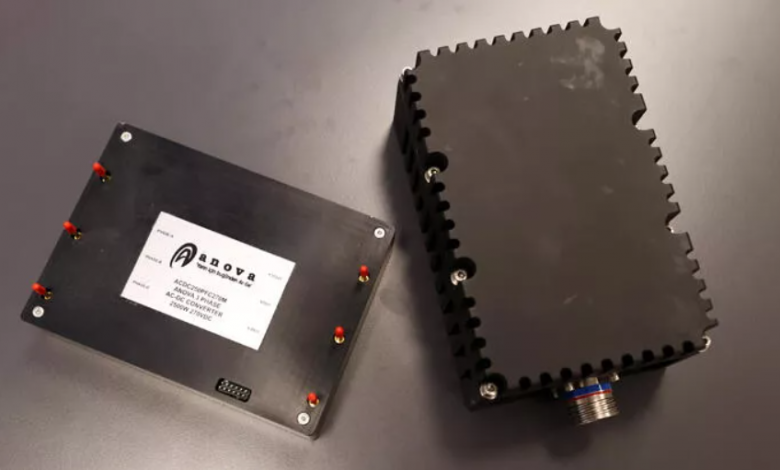 The activities carried out within the Turkish defense industry and the localization of critically important subsystems and units continue unabated.
The difficulties that arise from time to time for military vehicles and equipment procured from abroad for the needs of the security forces are also experienced in the supply of subsystems and units used in these platforms in the future. Turkish Defense industry companies are doing localization studies for platforms developed nationally in order to prevent such situations.
Power management is of great importance in all electronic systems. "Military AC/DC converters" designed in accordance with military and aviation standards are used for both energy management and energy conversion. Anova R&D Technologies created a domestic product family from converters that were supplied from abroad in the past but could not be obtained recently.
İbrahim Altunsoy, Anova R&D Technologies Electronic Design Manager, told Anadolu Agency (AA) that there are 2 main manufacturers of AC/DC converters in the world.
Emphasizing that there were no bids and supply problems for the products whose intellectual property rights are abroad, Altunsoy pointed out that even if the products are found today, it is unclear whether they will be found in the future.
Produced for the first time in the world
Explaining that solutions can be produced for different current and voltage levels with modular AC/DC converters, Altunsoy stated that they have been working on developing these products, which are widely used in the Turkish defense and aerospace industry, for a while.
Stating that they produced 2500-watt modular AC/DC converters for the first time in the world to meet the special needs of the platform on which they will be located, Altunsoy said:
"Thus, we localized a product that was not produced by current manufacturers, upon need. Later, we expanded our work for a domestic product family with smaller 50, 100, 250, and 500 watt versions. The 500 watt AC/DC converter had been used on an aerial platform for 10 years. The converter inside can no longer be supplied. A power unit that manages the helicopter's weapon system. Without this, the platform would either fly unarmed or a new solution had to be developed. We produced this product in a short time with the experience we gained. It will be attached to the platform soon. The deliveries of the 2500-watt product have begun, the 500-watt We will also start the deliveries of the version of this year. The qualification of our domestic AC/DC converters has been completed, and the platform-level tests are continuing.As a result of the activities started in Istanbul, we both meet the domestic product needs in current projects and we have created a domestic product family."
Stating that there is a need for power converters wherever there are electronic systems, and that weapons, radar, navigation systems, all kinds of computers, calculations and sensor units are fed from these power converters, Altunsoy said, "On the DC/DC side, our products will be released in the first quarter of next year. AC/DC is relatively difficult. It is an area. The number of producers is very limited. We prioritized it because we need it ourselves." said.
Delivery times and costs are reduced
Noting that when AC/DC converters are wanted to be purchased from abroad, delivery times can take up to 30-40 weeks, Altunsoy said that the delivery time of domestic products is limited to 4-6 weeks. Stating that they will deliver 30 products in a short time, Altunsoy noted that this way, disruptions in the project calendars will be prevented.
Stating that besides delivery times, significant cost advantages will be achieved with domestic products, Altunsoy stated that domestic AC/DC converters can be supplied at one third of the price.
Altunsoy stated that AC/DC converters are widely used in aircraft as well as platforms with limited space such as ships, submarines, and electric rail transport vehicles.
Altunsoy underlined that the product, whose number of producers is very limited, also has a serious export potential.
Export time in military fan
Anova R&D Technologies has recently created a product family by localizing the most frequently used fans for military purposes.
While the cost is halved with domestic fans, the product family with 14 different fans attracts great attention. There are more than 2,000 open orders for fans in the country. Foreign meetings have also started for the fans. Anova aims to export its first fan this year.
Another localized product, the flexible bullet track, was exported to 15 countries.