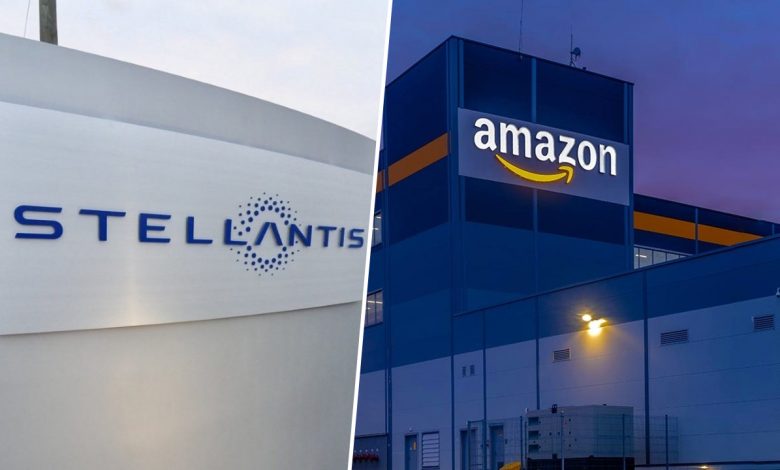 Amazon and Stellantis have signed a partnership that will accelerate the entry of new digital products into the market. Here are the details of the deal…
Stellantis, a Netherlands-based multinational automotive company, has reached a significant deal with the famous e-commerce company Amazon. This partnership will open a new dimension in the in-car experience, allowing Stellantis's millions of customers to get a better experience.
With this agreement, which will accelerate the transportation industry's transition to a software-oriented sustainable future, Amazozn's experience in digital experiences, cloud computing, artificial intelligence, machine learning, and Stellantis' automotive engineering expertise and 14 vehicle branded portfolios will come together.
The agreement will accelerate the entry of new digital products into the market
Stellantis has been making deals with major technology firms since its inception, and has now joined forces with Amazon to collaborate on a range of solutions, including Amazon Devices, Amazon Web Services (AWS) and Amazon Last Mile.
Stellantis and Amazon will collaborate on technology and software issues, including vehicle development, creating connected in-car experiences, and training the next generation of car software engineers. The two companies will provide integration for their customers' digital lives and will reveal software-based products and services with regular wireless (OTA) software updates.
Amazon CEO Andy Jassy emphasized that Amazon has built a culture of technology, experience and innovation over the past 20 years to become a world leader in cloud computing, artificial intelligence and machine learning:
"We have used these capabilities to make life better for our customers around the world through products and services such as Alexa, Kindle and Fire TV. We've enabled thousands of companies to transform themselves and their industries through AWS.

We are excited to partner with Stellantis to transform the automotive industry and reinvent the in-car experience. We strive to make every moment on the go smart, safe and customizable for each passenger. Together, we will form the basis for Stellantis' transformation from a traditional automaker to a global leader in software-driven development and engineering."
Stellantis CEO Carlos Tavares said of the partnership:
"Working with Amazon is an integral part of our talent development roadmap, based on both the development of existing competencies and decisive collaborations with technology leaders. This collaboration will give STLA SmartCockpit, one of our key technology platforms, significant expertise.

Using artificial intelligence and cloud solutions, we will transform our tools into personalized living spaces and improve the overall customer experience. Thus, our vehicles will become the most fascinating places to spend the most time, even when we are not driving."
What will the Amazon and Stellantis partnership bring?
STLA SmartCockpit
StLA SmartCocpit will be the first standout product of the Amazon and Stellantis collaboration. StLA SmartCockpit's software, which will be available in millions of Stellantis vehicles worldwide starting in 2024, will be unveiled with this collaboration. Software-oriented platform; Entertainment will seamlessly integrate with customers' digital lives to create personalized and intuitive in-car experiences through AI-enhanced applications for Alexa-powered voice assistance, navigation, car maintenance, e-commerce, and payment services.
The STLA SmartCockpit platform will use Amazon products and solutions tailored for vehicles. Stellantis will have the flexibility to create customer, brand and vehicle-specific skills. The software will offer services and experiences through the app store. All of this will be displayed with a smart, adaptive user interface design that offers individual requirements and preference-compliance features for each user.
Personalized smart assistant
STLA SmartCockpit will adapt to customers' behavior and interests wherever their passion takes them at home, on the road or after they set off. One vehicle will be able to offer a family travel planner that recommends media content, attractions, restaurants and other entertainment stops along the route, while another vehicle will include a digital off-road assistant to help customers calibrate vehicles and optimize performance before struggling with challenging terrain.
The house can be controlled from inside the vehicle
Integration with Amazon's pioneering smart home and security services will enable customers to proactively monitor and manage their homes on the go. Stellantis customers will also be able to manage their vehicles from the Alexa smartphone app with their Alexa-enabled devices at home, including adjusting cabin temperature, creating a service appointment or using special Alexa skills to order accessories before getting into their vehicle.
The process of developing STLA SmartCockpit will also benefit from stellantis and Foxconn's Mobile Drive joint venture in 2021 to develop groundbreaking digital cockpits and personalized connected services.
Engineering and innovation
The second area of focus of the union will be the next generation of cloud-enabled infrastructure. Stellantis and Amazon plan to co-create the next generation of cloud-enabled infrastructure for vehicle platforms like STLA SmartCockpit through AWS.
Stellantis plans to move up-to-date brands and the existing cross-geography tool dataline to the cloud-based data network, leveraging AWS's advanced capabilities that enable scalable and durable real-time data flow. Stellantis engineers will be able to switch to an AWS-powered data network and use the tools and interface that best suit each project.
Stellantis also aims to accelerate the launch of new digital products that leverage AWS machine learning to provide much more personalization and predictive maintenance.
Both companies design a cloud-based product development environment called "Virtual Engineering Machine" that provides automated workflows for software development and testing, high-performance simulations, machine learning model training, data collection and analytics.
Agile-Automated Software and Data Academy
Stellantis recently announced the launch of the Software Academy to increase the capabilities of all employees. Stellantis and AWS plan to launch a new global learning curriculum called agile-automated software and data academy to cover software, data, and cloud technology. Stellantis will also train more than 5,000 developers and engineers on AWS-related cloud technologies by 2024 to accelerate its transformation into a data-driven organization on the cloud.
Stellantis and AWS will build an AWS-powered global network of Innovation Centers where experts from both companies will innovate using the breadth and depth of AWS cloud services to accelerate development.
Growth of the delivery network
Since Stellantis2018, It has supported Amazon's latest delivery (Last Mile) operations in North America and Europe with tens of thousands of light commercial vehicles with light commercial vehicles such as Ram ProMaster, Fiat Ducato, Peugeot and Citroën.
Amazon is also transforming its latest delivery operations with sustainable new solutions to support its Climate Commitment and promise to have net zero carbon by 2040. As part of another deal with Stellantis, Amazon will be stellantis' first commercial customer of the new Ram ProMaster Battery Electric Vehicle (BEV), which will be released in 2023.
With Amazon's feedback, Stellantis designed the tool with advanced end delivery capabilities. Amazon will launch these vehicles on routes across the U.S. Under the current collaboration and long-term agreement, Stellantis and Amazon will launch thousands of BEV ProMasters each year.
Built on a strong foundation
This collaboration expands the areas of the existing agreement between Stellantis and Amazon. Stellantis became the first automaker to integrate the Amazon Fire TV experience with the launch of the new 2022 Wagoneer and Grand Wagoneer.
Stellantis was also the first automotive OEM to announce plans to implement the Alexa Custom Assistant solution, which enables the creation of personalized, intelligent AI and voice-driven experiences based on Alexa technology.