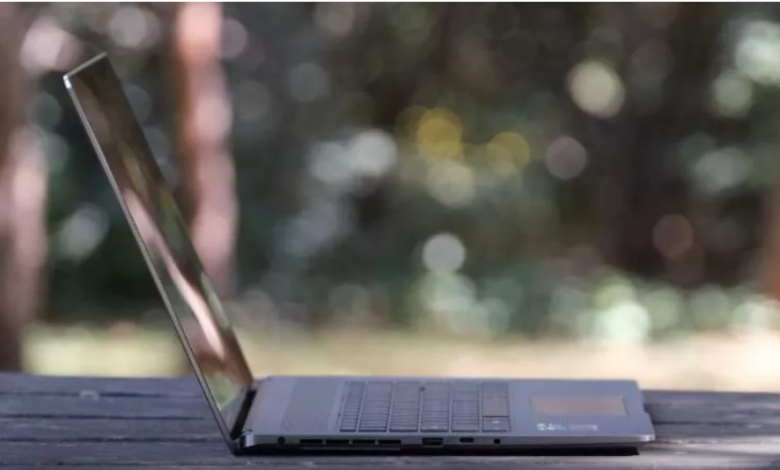 We are here with a brand new review video. This time, our guest is the new MSI Creator Z16, developed for content producers, attracting attention with its stylish design and high performance hardware.
CLICK HERE TO BUY MSI CREATOR Z16 NOW
With the pandemic period, digital transformation gained speed in our country as well as in the whole world, while the importance of mobile technologies increased. While we have the opportunity to work at home with Home Office, we see a parallel increase in Laptop Computer sales. MSI is also one of the strong names in the laptop market and has a wide range of laptop models. One of them is called Creator Z16, which is designed especially for professionals and content developers, and it has many ingenuity.
Design
Before moving on to the hardware features, I would like to talk a little bit about the design. Because MSI not only equipped this device with powerful hardware, but also made a special effort for its design. Weighing 2.2 kg, Creator Z16 has a post-modern appearance with its rounded flowing form and stylish edges, and we can see the golden ratio design concept in this device.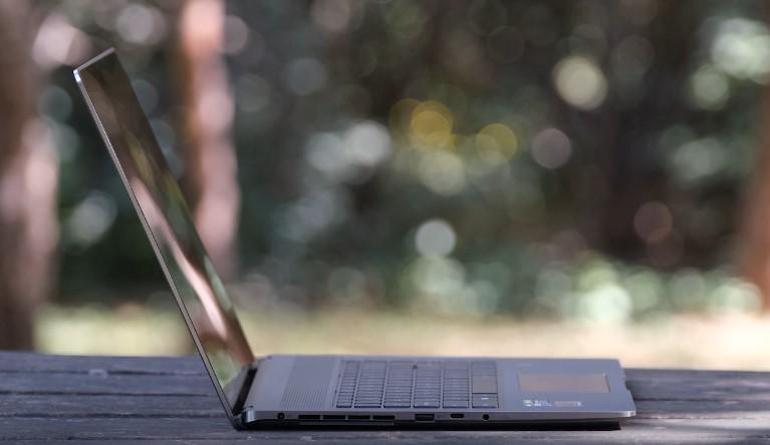 The Lunar Gray color of the device has also added a different atmosphere to Creator Z16. This color on the CNC-manufactured case changes color to resemble the phases of the Moon under different light conditions, and even from this point of view, you can see that fine details are thought of at every stage of the product. In summary, the material used is of a very high level. When you buy this computer, you can easily feel that you have purchased a top class, premium computer.
Let's talk a little bit about the ports on the device. This computer supports a wide range of ports such as Thunderbolt 4 and USB 3.2 slots, microSD card reader, and combo audio jack, and offers a rich choice in this respect.
Processor, RAM, internal memory
Creator Z16 is powered by an 11th Gen Intel Core i7 11800H processor running at 2.30 GHz and comes with 32 GB DDR RAM. The RAMs are positioned as 2 pieces of 16 GB RAM. If you wish, you have the chance to increase the total RAM to 64 GB by adding two 32 GB RAMs.
The 1 TB SSD also works very fast and I can say that the device works very fast both in applications that require high performance and when it comes to file transfer.
Display card
One of the striking features of this device is that it is equipped with the GeForce RTX 30 series. With 2 times higher rendering performance than the 20 series and up to 2 times the graphics memory, it offers the opportunity to edit 8K HDR RAW videos fluently. You can also work fluently on huge 3D models.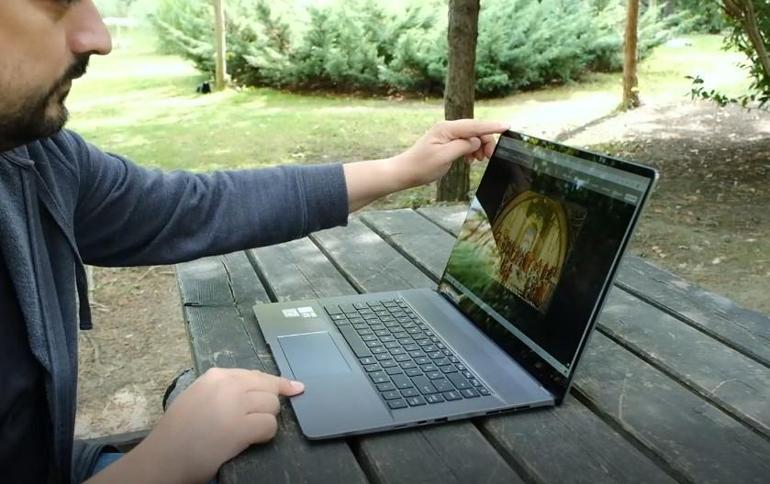 This powerful graphics card is offered to us with NVIDIA Studio support. Hardware alone is not enough and we can achieve maximum efficiency when optimally optimized with software.
NVIDIA Studio is an ecosystem created in 2019 to produce purpose-built high-performance laptops and desktops and graphics cards for a growing number of creative professionals. Your favorite design applications can now be accelerated with NVIDIA Studio AI. Thus, your workflows can be completed in a very short time.
If you are a content creator, I highly recommend using NVIDIA Studio.
Cooling
As for the cooling performance, I can say that I found the device quite successful. Cooler Boost technology developed by MSI is used, and thanks to its sharp fan blades as thin as 0.1 mm, Cooler Boost Trinity+ improves the airflow produced by the fans and provides an efficient working environment during intensive use. Fans are positioned in different parts of the product. Thanks to the fans on the right, left, bottom and back, the device never loses its high performance, and it is also important that these fans work very quietly. After all, we use a computer developed for intensive use, and thanks to this cooling, we do not compromise on high performance, we do not experience noise problems.
Screen
One of the most important points that the Creator Z16 distinguishes is its screen. If you are targeting content producers, of course, the performance of the screen is very important. It is a must for a content producer that the color and rendering performance is at the highest level, the screen gives the color in the most accurate way possible, and for this, the screen is of high quality. With this device, MSI has developed a product that can more than respond to this need.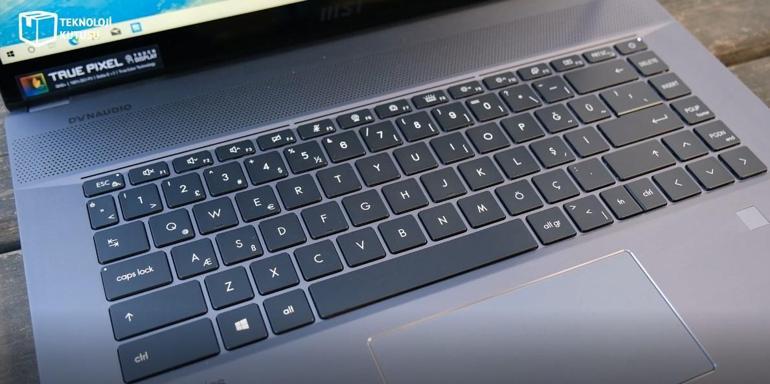 Creator Z16 uses a 16-inch QHD+ display and offers a screen resolution of 2560×1600 pixels. If you look at other similar products on sale, you will notice that while most of them provide the 16:9 measure, the difference of this device is here and it offers us the 16:10 measure. This means that if you're using a 16:10 screen compared to 16:9 screens, your screen will be 11 percent larger from the bottom up than the top. A bigger screen is always a necessity for content producers and of course you will need a bigger screen, especially if you are using applications like Da Vinci and Premier, Creator Z16 provides a significant advantage at this point.
The screen of the device can be opened 180 degrees. Especially when you are working with your mutual teammates, when you want to show your screen quickly to the other person, you can mirror the screen from the opposite angle by pressing the F12 key. This also provides convenience.
The product has a touch screen structure. Touch sensitivity is also very good. If you want, you can also buy a pen and use the screen of this device as a graphic tablet. You have to buy this pen separately as it does not come with the device.
This device provides the DCI-P3 color space. As you know, there are color spaces such as Adobe RGB and sRGB in the market. The DCI-P3 provided by Creator Z16 is 25 percent more than sRGB and reflects a color gamut similar to Adobe RGB. In addition, we can change the colors that the device reflects on the screen whenever we want. For this, we can choose MSI True Color by right-clicking on the desktop.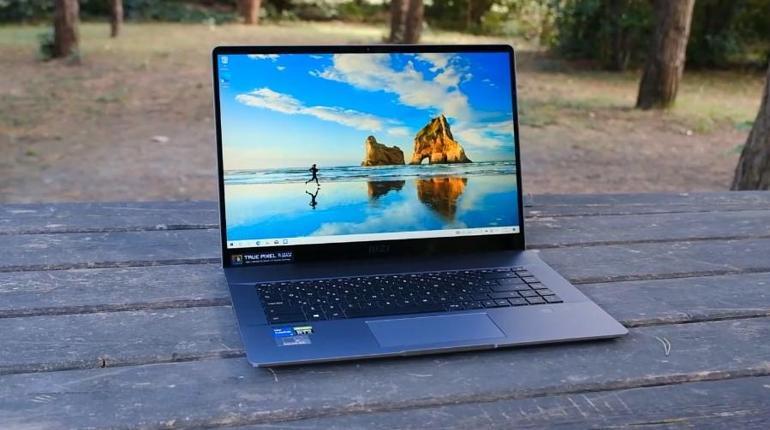 Another important point about color is that the Delta-E of Creator Z16 is below 2. In this way, we can say that the colors are reflected on the screen more consistently. On top of all this, the fact that the screen also has the Calman certificate shows us that the device is very reliable in terms of color accuracy.
The device's webcam is positioned above the top bezel of the screen. As I mentioned at the beginning of the video, we now work more at home and attend meetings at our computer. So the webcam is important. The camera, which can take images in 720p resolution, would be inedible if it were 1080p, but it still works.
Security
Creator Z16 also offers various options to its users on the security side. If we want, we can use the fingerprint scanner or, thanks to Windows Hello support, we can unlock the screen using our face. Thus, we do not have to worry about entering a password, our data is biometrically secured.
Keyboard
I also want to focus on the keyboard design. The keyboard is signed by SteelSeries. SteelSeries is a brand well-known to gamers with its products such as mouse, keyboard and headset, and we see that this collaboration we see on this device has greatly improved the user experience. The writing feel is of good quality and the RGB lighting adds color to the device. As we can change these colors with the help of the application, we also have the opportunity to turn off the lights completely.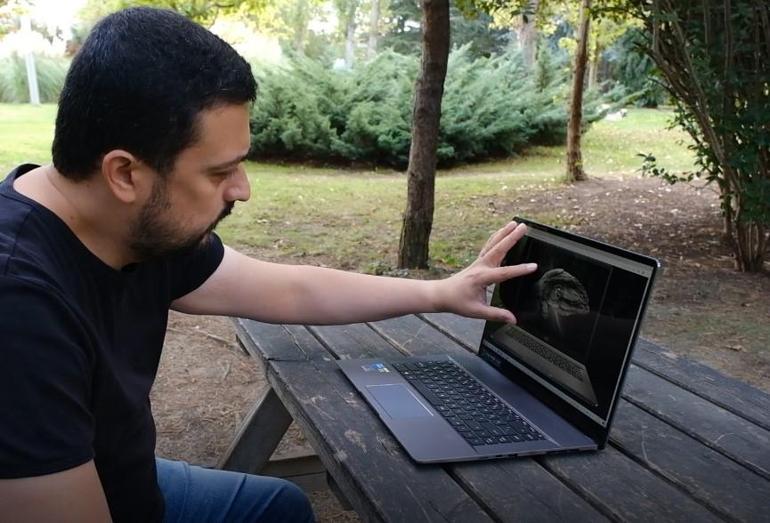 Sound
On the audio side, we see the Denmark-based Dynaudio signature, and a satisfactory level of sound performance is offered for users.

Conclusion
As a result, the MSI Creator Z16 has become a computer that simplifies the life of content producers and greatly increases productivity. If you are looking for a product in this class right now, Creator Z16 is for you.