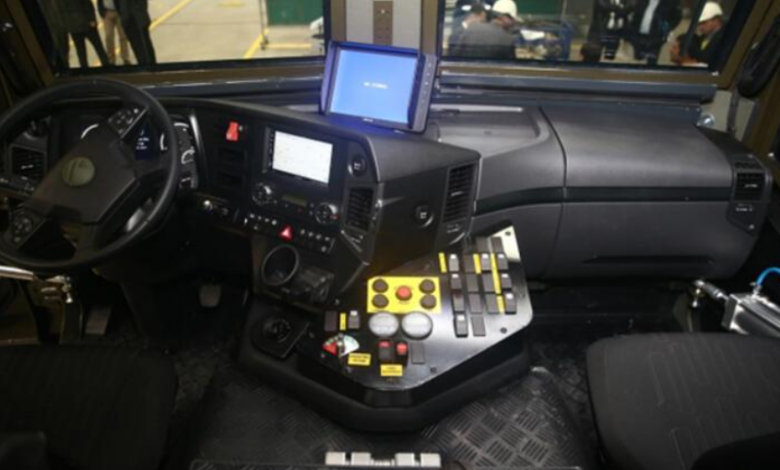 Another land vehicle developed within the Turkish defense industry is counting the days to enter the inventory of the Turkish Armed Forces .
koluman Automotive Industry Inc., which has signed solutions such as shelter equipment, transportation, loading, maintenance and repair vehicles and special systems in the field of military projects, was established in 2016. Cure started to develop 8X8 armored logistics support vehicles with its brand.
The company exhibited Derman's first generation prototype with its container handling and transport version at the 15th International Defense Industry Fair (IDEF 2021). The prototype of the second generation of Derman designed as a tank carrier was also introduced for the first time.
Kaan Saltık, Chairman of the Board of Koluman Automotive Industry Inc., said that they have been meeting civil and military needs since 2000, that they have been solution partners of ASELSAN and ROKETSAN for superstructures for many years, and that they have delivered a large number of vehicles to the Turkish Armed Forces. Stating that as Koluman, they decided to develop their own vehicles in 2016, Saltık said:
4
"There is a need for logistics support services, especially in the Armed Forces. Therefore, we started an R&D activity. Vehicle technique is a subject we are already familiar with. We received support from foreign consultants on ballistic technology. It was a study that lasted until 2019 and our first prototype was revealed. "This was followed by our second generation Derman vehicle that we produced in 2021. The cabin of our first vehicle was single-door, the cabin of our new vehicle could be both single and double-door. We used imported steel in our first vehicle, we planned to use domestic steel in this vehicle."
PROTECTED AT NATO STANDARDS
"Both vehicles have protection at NATO standards. We programmed these vehicles mainly for the logistic support services of the Turkish Armed Forces. Our first vehicle is the container handling vehicle. It is a vehicle designed especially for soldiers in war zones to carry and return some critical products without any damage. Our second generation product is a vehicle for transporting tanks. It has the capacity to carry from 70-ton tanks to the Altay tank."
NEW VEHICLE LIGHTWEIGHT, INCREASED DURABILITY
Saltık stated that they signed a contract for 65 Dermans to meet the needs of the Turkish Armed Forces and that these vehicles will begin to enter the inventory from next year.
Stating that some improvements were made after the emergence of the first prototype, the new vehicle was lightened, its strength was strengthened, and its terrain capability was increased, Saltık said, "We think we are making a good vehicle, but we do not stop. Our R&D studies continue. We will make further improvements. Especially the software of the vehicles, 360 "We have made improvements in the awareness system and electronic equipment. These are also time-consuming works. We are trying to make our vehicle with domestic steel instead of imported steel." said.
Stressing that Derman has gone through intensive tests in England, Germany and Turkey, Saltık said, "We have done the warming tests, bad road conditions tests, and we will continue. We have an intense test schedule." used the phrases. Stating that the export door will just be opened, Saltık said, "Even though we are in talks with various foreign countries, everyone wants the vehicle to be in the inventory first.Turkish Armed ForcesIt is also one of the best references that can be given worldwide. After we start to deliver 65 vehicles, our chances in the export markets will increase a lot. After the vehicle is actively used, other countries will be much more willing to buy it."