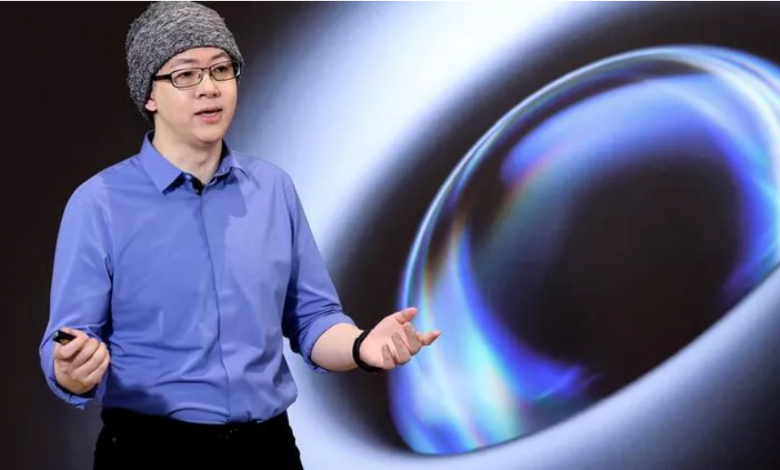 Oppo held the 2021 OPPO Future Imaging Technology launch. At the online event, Oppo announced a series of innovations in smartphone imaging technologies focused on sensors, modules and upgrades in algorithms. The company focuses on developing and optimizing background imaging technologies to enable users to 'capture the good in life easily'.
Among the innovations announced OppoIt has a new generation RGBW sensor, Oppo 85-200mm Continuous Optical Zoom, Five-Axis Automatic Image Stabilization (OIS) technology and a new generation Under Screen Camera with Oppo's proprietary artificial intelligence algorithm. Using these new technologies, the company has made a significant advance in smartphone imaging technologies, covering a variety of imaging capabilities including light sensitivity, zoom capability, stabilization, preliminary research into the forms of future products, and more.
Next generation RGBW sensor
The company's next-generation RGBW sensor offers additional white sub-pixels (W), DTI technology and Oppo's self-developed 4-in-1 pixel algorithm, significantly increasing light sensitivity. As a result of these innovations, the new sensor provides a noise reduction of up to 35% to deliver much clearer and brighter images in low light conditions, while allowing 60% more light to be captured than previous sensors.
The next generation RGBW sensor was developed using advanced manufacturing and processing technologies. Thistechnologyprovided the additional computing power needed to process complex algorithms and maximize the amount of data available through the white pixels on the sensor. The company's proprietary 4-in-1 pixel algorithm helps to significantly improve the color performance of the sensor while avoiding problems such as color errors and moire formation. In addition, the industry-leading DTI pixel isolation technology in the new sensor effectively prevents sub-pixel crosstalk and improves image quality.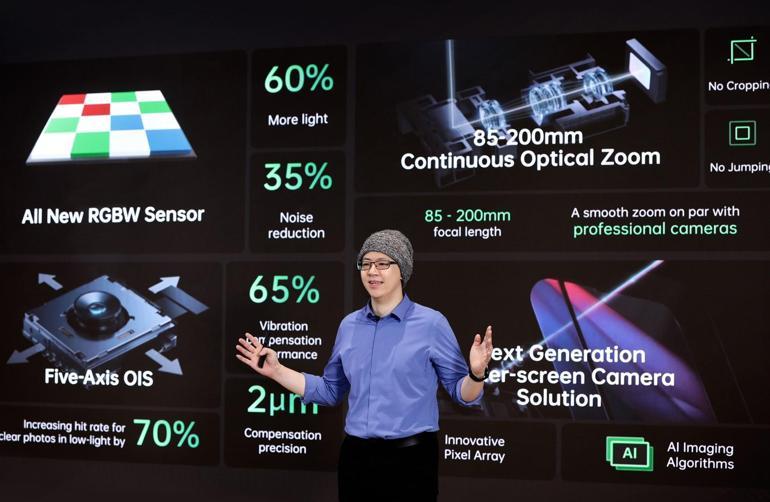 The new generation RGBW sensor can go beyond improving low-light photography and make portraits more impressive in both stills and video, with skin, texture and contrast improvements. The new sensor will be commercially available on Oppo products from Q4 2021.
New Module
The newly announced 85-200mm Continuous Optical Zoom module, which redesigns the core structural module at the hardware level, features:
• G+P (glass + plastic) offers lens technology together for the first time. It has two ultra-thin and high-precision aspherical glass lenses to significantly enrich optical effects such as minimizing light scattering.
• The innovative application of the tunnel magneto resistance sensor (TMR sensor) allows the lenses in the camera module to move more stable and sensitive.
• A new upgraded guide shaft motor effortlessly supports Continuous Optical Zoom at higher zooms by increasing the dynamic tilt over which the lens system can be moved.
These innovations support Continuous Optical Zoom at equivalent focal lengths from 85mm to 200mm; It captures sharp images at any level of intimacy, from close-up and self-portraits to distant landscapes, without the need for cropping. In addition, this technology avoids common problems such as skipping, incorrect white balance or color distortion that can be encountered with traditional multi-camera zoom systems.
Another innovation of Oppo, the Five-Axis Automatic Image Stabilization technology, allows the system processor to receive motion data from the gyroscope, analyze it and separate it into its relevant components through algorithms. The data is then transmitted to two moving components: the lens and the image sensor, which are driven by ball motors and then shape memory alloys.
When movements are smaller, images are stabilized primarily through lens-shift Auto Image Stabilization with horizontal (X) and vertical (Y) shift. However, when movement is relatively large, sensor-shift Auto Image Stabilization is used, along with algorithm support (including pan x, vertical pan y, and roll feature) to achieve stabilization in five-axis space.
This solution allows a maximum stabilization angle of ±3°, which is three times greater than traditional Auto Image Stabilization technology in mobile devices, while the sensor can be shifted with an accuracy of 2μm. The company's proprietary algorithm technology can significantly improve stabilization, clarity and color performance in night shots or action shots. Thus, it can increase the vibration compensation performance by up to 65%. Five-Axis Automatic Image Stabilization will be commercially available in OPPO products from the first quarter of 2022.
New Algorithm
Finally, Oppo introduced the new generation Under-Screen Camera solution developed for the smartphones of the future. Innovative pixel geometry delivers 400-PPI high-quality images in the under-display camera area. The use of transparent wiring and new design results in a smoother visual experience and much better image quality. Each pixel circuit uses only 1 pixel (1 by 1) on the screen, and with OPPO's precision algorithmic recovery technology, screen life is improved by up to 50%, while only about 2% deviation occurs on the screen; The color and brightness of the whole screen is controlled more accurately.
In addition, the company's US Research Institute has developed a set of AI-powered imaging algorithms, including refraction reduction, anti-condensation, HDR and AWB capabilities, to better optimize the imaging quality of the Under-Display Camera. Oppo's AI-enabled refraction reduction model has been enhanced using tens of thousands of images to control problems caused by refraction in the light source, allowing users to capture clearer, more natural-looking images.