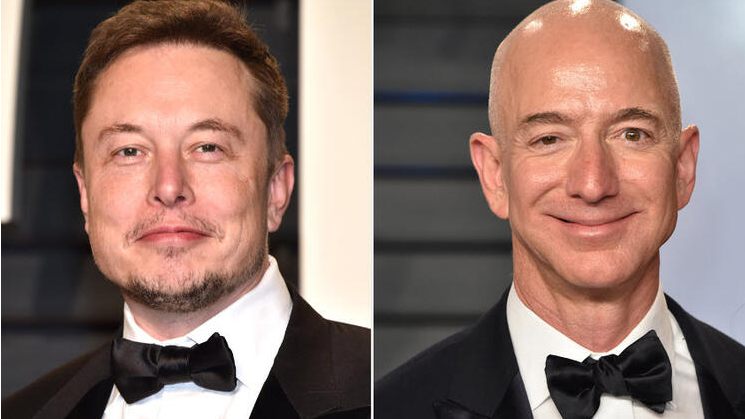 There is a "satellite tension" in space between SpaceX and Amazon companies, which are owned by the two richest people in the world.
Elon MuskSpace X owned by and Jeff Bezosowned by Amazon, accused each other of trying to curb competition.
According to Forbes Magazine's real-time rich list, Bezos has a fortune of $ 193.3 billion as of today. Musk's fortune is $ 190.3 billion.
According to the International Monetary Fund IMF, only one has more wealth than the gross domestic product of more than half of all countries in the world.
The cause of the tension
The tension between the two companies stems from SpaceX's desire to make changes to the Starlink internet satellite project.
With this project, SpaceX plans to send thousands of satellites to space to provide fast internet all over the world.
This network, established by the company that has already sent more than 900 satellites in space, is called the Starlink Satellite Constellation.
SpaceX has permission from the US Federal Communications Commission (FCC) to send thousands more satellites into space.
However, the company applied to the commission and announced that it wanted to position up to three thousand satellites at an altitude lower than the previously planned or approved altitude.
Appeal from Amazon
Amazon opposed this request on the grounds that it would put its satellite constellation initiative, called Project Kuiper, at risk. Amazon has not launched any satellites yet. But the company has received permission from the commission for its project.
The company's permit stipulates that at least half of the satellites in the Kuiper constellation have been launched.
Amazon plans to position its satellites at an altitude of 590 kilometers in Low Earth Orbit (LEO).
According to CNN's report, SpaceX, on the other hand, stated that it wants to position its 3,000 satellites at an altitude of 540-570 kilometers in its modification application to the commission.
Amazon argued that it would be "dangerously close" to its own satellites, and signal problems with the Kuiper project and other satellite networks.
The company says that Starlink satellites can be 30 kilometers below or above the allowable altitude in orbit.
David Goldman, SpaceX's satellite policy director, wrote to the FCC on Jan.22, claiming that Amazon was trying to mislead the public by "choosing the information it wants".
"It is not in the public interest for Amazon to undermine Starlink for its satellite system, which will be operational in a few years, at the most optimistic forecast," Musk said in a Twitter message.
Amazon responded with a statement, arguing that these changes would increase the risk of satellites collisions and cause signal problems.
The statement said, "The facts are very clear. We developed the Kuiper System in a way that does not have problems with Starlink. But SpaceX now wants to change its system. SpaceX is trying to drown the competition in the cradle."